好日居 Kojitsu-kyo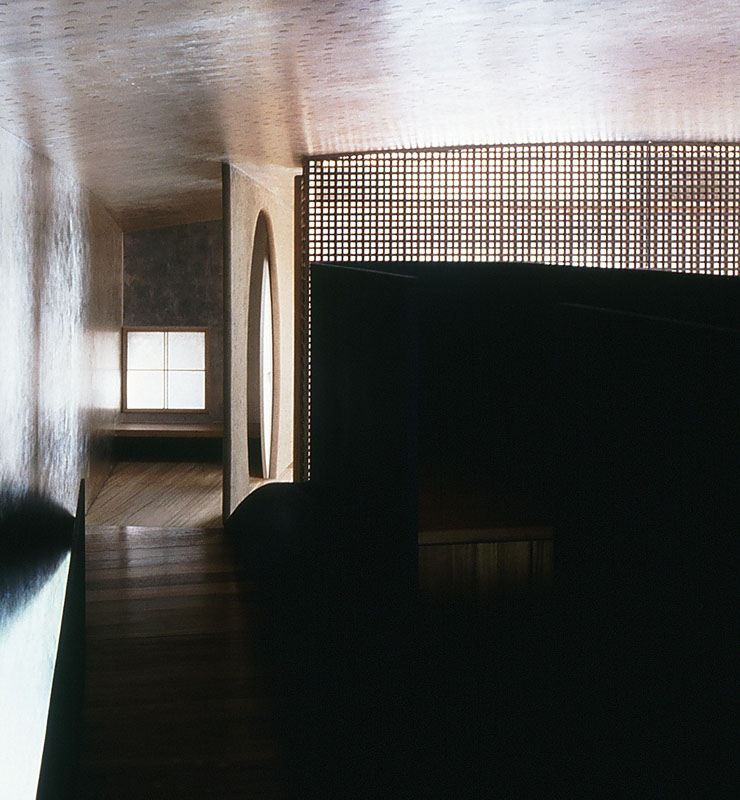 吉田五十八賞

"絵巻物の空間"と評されたこの住宅は、薄い曲面鉄板を形成する造船技術と、伝統技術・素材を融合して建設した。都心の限られた敷地面積の中、30mm厚の曲面鉄板を内壁とし、その厚み分、延床面積を広く確保している。最上階は銀箔張りの鉄のドーム空間で、その上部に格子張りの茶室を吊っている。
好日居
所在地:東京都目黒区
用途:住宅
期間:1987–1990
Awarded the Isoya Yoshida Memorial Prize.

An antique dealer's house. The theme here was to make effective use of a relatively small plot of urban land so that residents can fulfill the functions of modern everyday life, while at the same time aspiring to design spaces responding to the Japanese sense of beauty.
The solution is that an U-shaped steel plates of 30-mm thickness were fabricated at the site from the basement to the roof, serving as walls and partitioning spaces. The inside of the U functions as the staircase. The third floor is a 4-meter high void with the walls and ceiling finished with silver foil. In the void, a small tea room is suspended like a palanquin. This work represents a fusion of traditional techniques and materials of Japanese architecture and industrial technology.
Kojitsu-kyo
Location: Meguro ward, Tokyo
Principal use: private residence
Design & construction period: 1987–1990
BACK